Local camp owners and directors share advice and tips for camp parents—10 things they wish parents didn't do when sending children to camp. Plus, counselors share five things they want parents to know.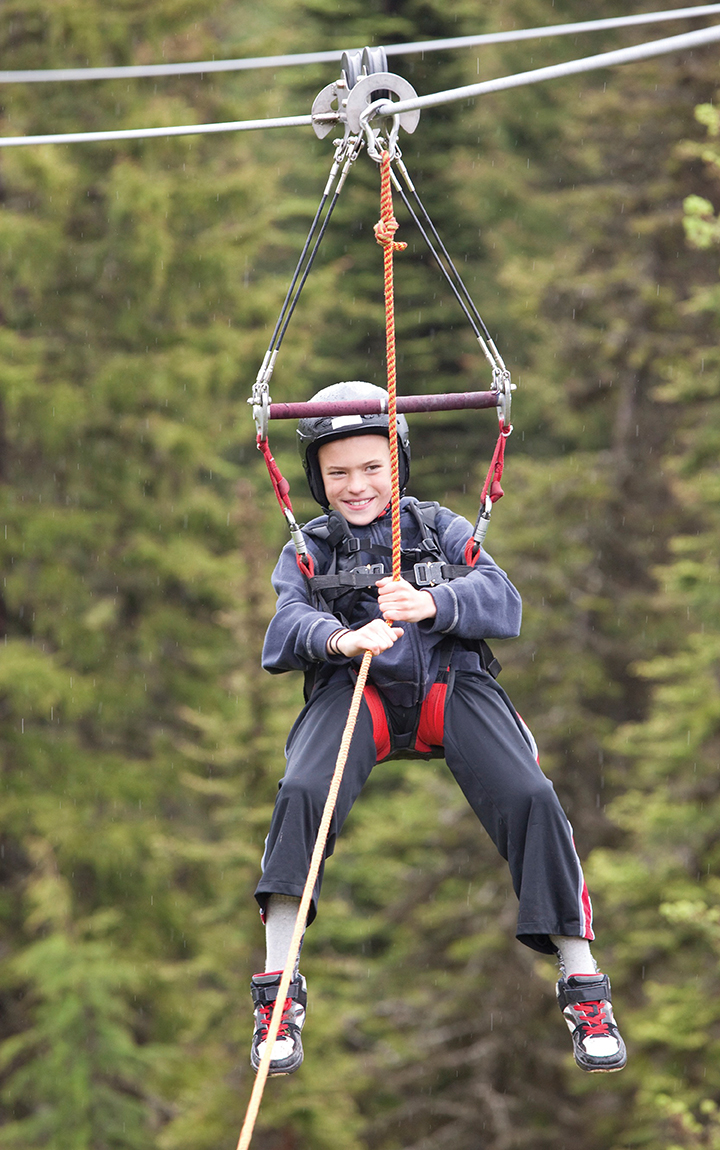 Think you need to protect your clumsy
or tentative child from activities he fears?
Think again, suggest most camp directors:
Let yourself be surprised when your kid
boasts that zip-lining was his favorite
summer activity!
Parents spend hours sifting through camp brochures, touring their final choices, and preparing their children for camp. Here's what counselors, directors, and long-time owners of camps in our area have to say about what you should not do in order to ensure that your child's next (or first) camp adventure is the most fruitful it can be.

1. Don't fixate on one 'cool' activity.
Parents often get wrapped up in one or two particular details of a camp experience like zip-lining or riding go-karts without looking at the larger picture, says Sam Borek, owner and director at Woodmont Day Camp in New City.
"The camper will participate in those activities only a few times per summer," Borek says. "Parents should select a camp based on the camp's philosophy and feel, as well as the connection that the parents make with the camp directors." When discussing camp with your child, make sure that you highlight all of the activities that are included, otherwise, they'll be looking forward to one activity all summer that they may only spend one day completing.


2. Don't send cellphones.
Parents want their children to be able to reach them at all times, but children generally use mobile phones for too many activities. They may snap pictures at inappropriate times or tweet unkind messages. Camp, which offers a break from media exposure, isn't the right place for phones, say many camp professionals we spoke with.
"In this age of connectivity, camp should be a time to connect with peers and adults in a convivial manner too often lost in today's world," says Gary Bloom, director of Camp Playland in New Canaan, CT.


3. Don't send electronics.
Electronics above and beyond cellphones raise major problems, too. "Aside from issues like loss, damage, privacy, and even theft, they preclude the kids from participating in activities in favor of their devices," says Jack Grosbard, owner of Mill Basin Day Camp in Brooklyn. "The purpose of camp is to do and learn new things with friends, and that is not going to happen with a child who has her head down in some electronic device."


4. Don't hover.
For some parents, leaving their children at camp can be nerve-wracking, especially if the children are sleeping away for the first time. "It's important that parents feel comfortable communicating with the camp through phone calls or emails—but, at the same time, parents should respect that camp is a time for the child to make new friends and to try new activities," Bloom says. "Once the parents respect the camp staff and develop trust, they will find less need to communicate."


5. Don't tell your children that they don't have to participate in certain activities.
While camp counselors will never push children into doing something with which they are uncomfortable, it is a time for youngsters to try new activities that they may not have access to on a regular basis.
"We always ask campers to try something for 10 minutes before sitting out," says Todd Rothman, director of Deerkill Day Camp in Suffern. "Typically they find they're having so much fun they forgot why they wanted to sit out in the first place. Often, these little achievements have the greatest impact on a child's self-esteem and give them the confidence to face other challenges outside of camp."
What Camp Counselors Want Parents to Know
• We want campers to truly enjoy their camp experience just as much as you do.
• We live to make each moment special with zany costumes, silly songs, and hilarious (or scary!) campfire stories.
• We support, encourage, slap high-fives, and give hugs for all accomplishments, big or small!
• We should not be expected to solve issues in 26 days that you could not solve in 339 days.
• We need information about your children—including medical and social information as well as goals they've set—to make sure your children have a rewarding camp experience.
6. Don't request that your children stay with friends.
A goal of camp is to place the child outside of his or her comfort zone. That can sometimes mean that children will cling to a group of friends from home instead of trying to make new ones.
"Ask long-time campers about their experience, and you'll often hear about their 'camp friends' as opposed to their 'school friends,'" Rothman says. "Camp allows children to be whomever they want, outside the social expectations and mores of the school setting. When parents insist on placing their children with their school friends, they risk having their child fall into typical patterns without being able to find their own way."


7. Don't set your children's goals for them.
Parents often think that children are going to camp to learn how to swim, play a certain sport, cook, or complete another task. Most camps will teach children all of these activities, but daily tasks are just part of the picture.
"We want children to find out that they can do an activity because they enjoy it or because it's fun, not just because they are great at it," says Scott Ralls, founder and owner of Southwoods, a coed sleepaway camp in the Adirondacks. "These activities are just tools that we use to teach children how to deal with the world around them."

8. Don't admit that you miss your children too much.
Counselors know that you miss your kids, but children who may be given to homesickness really suffer when parents send letters telling them how much they're missed or how hard it is for them that the child is away.
"Children need to hear from parents that the parent has 100-percent confidence that the child will go to camp and be successful," Ralls says. "Better topics to talk about are the activities and new experiences that the child has had."
Many camps also post daily blogs, video clips, or pictures of campers enjoying activities so that parents know what they're doing on different days. "Questions about these events and the experience a child is really having continues to help the child," Ralls says.


9. Don't ask for age-related exceptions.
We know that your children are talented. However, there's a reason that camp directors have suggested certain activities for each age group. And, although there may be some wiggle room, it's more likely that your child will stay with his or her assigned group, especially after the summer starts.
"We find that parents are always asking kids to complete complicated art projects that are beyond their capabilities, and then kids get frustrated that they can't finish," says Heidi Cohen, partner at the Lanyard Ladies, an arts-and-crafts day camp in East Rockaway. "Kids love to bring home things they make at camp to give as gifts to their parents. We find too many parents suggesting things that put too much pressure on their kids."
Counselors at other camps appreciate the age-related concerns, too. Whether children are playing games or sports, working with children in the same age groups is important.


10. Don't expect your children to be the same when they return.
For many children, camp may be the first time they've had the opportunity to explore nature by pitching tents, cooking over a fire, or catching frogs, among myriad other activities.
"We often get a shocked, blank look when our campers share in front of mom and dad that one of their favorite activities at camp was frog catching or caving!" Ralls says. "These are things many parents cannot imagine their child enjoying." Remember: Camp provides new experiences for many children and will inevitably make them more willing to try new things in the future.