Upon returning from a family vacation, you might want to consider preserving your memories by scrapbooking. We spoke to two experts (and fellow busy parents) about how to get started, getting your whole family involved, and two alternatives: scrapboxes and digital scrapbooking.


Picture this: You've just returned from a family vacation. You've printed pictures from your filled-to-capacity memory card; organized the ticket stubs, boarding passes, and other keepsakes you saved from the trip; and purchased supplies from your local craft store. Everything you need to create a scrapbook is in front of you…now what?
"Just get started," says Darcy Miller, who lives in Manhattan, is the mother of three girls (ages 5, 8, and 10), and is the editorial director of Martha Stewart Weddings. "Don't think that you always have to have the perfect idea from the beginning" because your scrapbooks and scrapbooking style will evolve over time.
"Narrow [your project] down to one theme, and just jump in head first," says Chrissy Guido, a stay-at-home mom of five (ages 5-16) and founder of Scraparoni, which hosts day and weekend scrapbooking events in Bergen County, NJ. "And remember, there's no wrong. Do it to make yourself happy and preserve your memories, not anybody else's."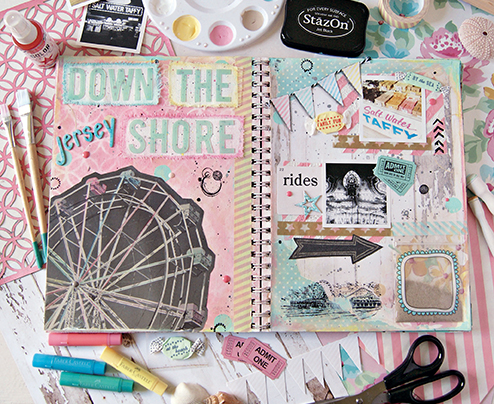 You don't need to travel far for a family trip to be worth scrapbooking. We're lucky to live near the Jersey Shore—a beachside escape that Jenny Heid and Aaron Nieradka, authors of Mixed Media Masterpieces with Jenny and Aaron, chose as the subject for these art-journal-meets-scrapbooking pages.


A Family Affair
Getting the kids involved in creating a scrapbook of your vacation can inspire you. It can also help you remember the trip from a different perspective.
"Bringing my kids into [the process] is really fun," says Miller, who is also a celebrations expert, author, and illustrator. "It's nice to [include] the things they remember most. I'll say, 'What do you remember about this place,' and they'll say, 'Oh, I remember that big wave!' It's fun to incorporate their perspective."
Other ways Miller weaves in her daughters' perspectives are through drawings and postcards. She says she always travels with markers and sketchpads for her girls so they can draw pictures of their trip, and her daughters write postcards about things they did and saw, which are then sent home.
Your kids may also take pictures of things they found interesting or important that you didn't see in the same way. If your tween or teen kids have a smartphone or their own camera, commandeer the photos they took on the trip to include in the family scrapbook. And with younger children, put the camera in their hands to get a different perspective. Remember: "Every picture doesn't need to be Smithsonian quality," says Guido, who began scrapbooking 16 years ago.


Finding Time
Between work and taking care of your children (and, well, unpacking after your trip), sitting down to scrapbook may be the last thing on your mind. For Miller and Guido, scrapbooking is important, so they make time. "I wait until I have a chunk of time. It's a Sunday afternoon and the kids are busy doing things," says Miller, who began scrapbooking when she was a little girl with her mother. "I organize everything in Ziploc bags or slip [pictures and keepsakes] into the pages of the book and then start with one page."
Smaller projects are also a good starting point for parents who are short on time. Scrapbooks come in smaller sizes too—6-by-6 inches and 8-by-8 inches—where the focus is primarily on the photos and memories because the pages are smaller and fewer embellishments are used. Keep in mind that every detail and picture doesn't have to be included. Some pages can even just be unadorned journal entries.

Breaking From the Traditional
If delving into creating a traditional scrapbook seems a little daunting—or your apartment doesn't allow much space for storing scrapbooking supplies—Miller and Guido suggest alternatives: scrapboxes and digital scrapbooking.
"I call them scrapboxes because they are what you would put in a scrapbook, but it's in a box," says Miller, who began creating scrapboxes because a lot of the mementos and keepsakes she likes to collect are three-dimensional items. For instance, Miller created a scrapbox with a picture of her daughter in a bassinet in the hospital and two small stuffed animals her daughter was given—"The kind of thing that I wouldn't be able to fit in a book," she says.
Miller creates scrapboxes for every occasion, from her daughter's first ballet class to the family trip to Walt Disney World. "I love them because they're keepsakes, and they are a way of commemorating and holding on to special mementos, but they're also art and can be as simple or as complicated as you want."
Guido learned about digital scrapbooking, another option, when she was on bed rest while pregnant. "I discovered jessicasprague.com. I watched one of [Sprage's] tutorials and thought, 'I can do this,' and it grew from there," she says.
The biggest benefit to digital scrapbooking, Guido says, is that products can be reused over and over again. "With paper, you tear or cut it, and there's no going back," she says. "[Digital is] quicker and cleaner. I have everything on an external hard drive and can plug into any computer anywhere and just do my thing." Once Guido creates the pages in Adobe Photoshop, she uses a photo service such as Snapfish or Shutterfly to have them printed in a bound book. Another plus? With just a few modifications (including an inscription, and possibly a different cover selection), different versions of your printed book can be ordered as gifts for a grandparent who accompanied you on vacation or as a memento for a child himself.
While scrapbooking is intrinsically a creative endeavor, some go above and beyond to create a beautiful piece of art like the above-pictured "Down the Jersey Shore" to commemorate a trip. Artists Jenny Heid and Aaron Nieradka, who founded the blog Everyday is a Holiday, create art journal pages that focus on details—adding different layers and textures with paper, canvas, candy wrappers, and 3-D stickers; speckling pages with paint; stroking on gesso to accent backgrounds; and distressing pages by dipping a finger in paint and rubbing along the page edges. The finished product is evocative not just of specific memories from one trip, but of the feelings and atmosphere the place evoked for you.
"Your art journal is where you can do anything you want. …With your own hands you can artfully render your wishes, dreams, memories, obsessions, and greatest passions," Heid and Nieradka assert in their book Mixed Media Masterpieces with Jenny & Aaron (Page Street Publishing Co.). "These creatively saturated pages have nothing to do with a career in art and everything to do with an artful escape." What's more, they're chock full of family travel memories presented so artfully that your friends won't groan when you whip out the book to share after dinner!
Whether you decide to scrapbook, scrapbox, or art journal to capture the memories of your family vacation, make sure you use the correct products—archival glue, tape, paper, and pages—to ensure the scrapbook will last for years. But most of all remember: "It doesn't have to be perfect," Guido says. "It just has to be you."

More Scrapbooking on NYMetroParents.com
Looking for some inspiration? Miller and Guido share scrapboxes and scrapbook pages they created.
Already a scrapbooker but looking for some new gadgets? From cutters to on-the-go storage, check out the scrapbooking products we recommend.
Need to buy supplies? We've compiled a list of craft stores in the New York metro area.

Also see:
Traveling with Kids: How to Stop Backseat Whining