Critical congenital heart disease, a heart disease that poses risk of death or disability, can be detected through the newborn screening pulse oximetry. We describe pulse oximetry, why it should be done on your infant, and the warning signs of CCHD.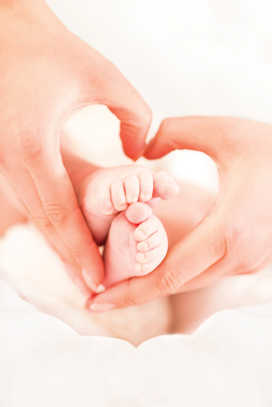 After your baby is born, but before she is discharged from the hospital, her hearing will be checked. She'll also undergo a quick heel stick screening that can detect at least 25 rare congenital conditions with just a few drops of blood. But there's another important disorder your baby should be screened for: critical congenital heart disease, a heart defect that poses a significant risk of death or disability if it isn't diagnosed soon after birth and treated within the first year of life.
Heart disorders are the most common congenital birth defect; approximately 40,000 infants are born with a heart defect each year in the U.S. Approximately 25 percent of those babies are born with CCHD. "Babies with CCHD can look healthy, even to the trained eye," says Elizabeth Stark, MS, a certified genetic counselor at the Genetic Alliance in Washington, D.C. In fact, the Centers for Disease Control and Prevention estimate that roughly 300 infants with unrecognized CCHD are discharged from U.S. newborn nurseries each year. But CCHD is so severe that without prompt corrective surgery, a baby could potentially die, sometimes as soon as within the first week of life. Overall, congenital heart defects account for 24 percent of infant deaths due to birth defects.

Early Detection of the Condition
CCHD is often treatable with medication or corrective surgery if it's detected early, with a simple screening test called pulse oximetry.
Pulse oximetry is a noninvasive screening test for CCHD that can potentially identify seven heart defects that fall under the CCHD umbrella before a baby shows signs of any one of the conditions, which affect one or more chambers of the heart. They include hypoplastic left heart syndrome, pulmonary atresia (with intact septum), tetralogy of Fallot, total anomalous pulmonary venous return, transposition of the great arteries, tricuspid atresia, and truncus arteriosus.
During pulse oximetry screening, which is performed using a machine called a pulse oximeter, tiny sensors are wrapped around a baby's right hand and right or left foot. The test uses light to measure a baby's heart rate and the oxygen level in the blood. It's conducted when a baby is 24 to 48 hours old, after his heart has had time to function on its own. Pulse oximetry is painless, noninvasive, and takes only approximately 15 minutes. If a baby tests positive, meaning that low levels of oxygen are detected, pulse oximetry will be repeated, followed by an echocardiogram to get an ultrasound picture of the baby's heart, before a diagnosis is made or a baby is determined to be healthy. Babies with CCHD will be seen by a pediatric cardiologist for treatment.

Screening Accessibility
Certain hospitals routinely screen newborns for CCHD with pulse oximetry. But here's the catch: Most don't. CCHD testing is only mandatory for hospital births in a handful of states. Babies born in hospitals or in other locations in New York or Connecticut aren't automatically screened for CCHD because CCHD testing isn't currently included in those state's newborn screening panels, the battery of tests newborns undergo to detect conditions at birth that can be treated before harmful effects occur.
Still, in September 2010, the federal government recommended adding screening for CCHD to the Recommended Uniform Screening Panel, which states can adopt through legislation or other avenues. As a result, more states are likely to mandate CCHD screening in the future. All newborn screening programs are run at the state level.
Meanwhile, since pulse oximetry isn't included in our state's newborn screening panel, you can request the test, which will be conducted at no cost to you as part of the Affordable Care Act. The cost of pulse oximetry is typically included in hospital fees and covered by insurance. If you don't have insurance, you may need to pay out of pocket. But, in general, no baby can be denied pulse oximetry or newborn screening based on a parent's inability to pay or a parent's citizenship status.
All told, talk with your doctor or midwife to make arrangements to get the test. CCHD screening is typically hospital based. "It's important to just ask your doctor or birthing facility staff, 'Do you do pulse oximetry?'" Stark says. If the answer is no, she suggests asking another question: "What do I need to do to make sure this test is done on my baby?"


Warning Signs of CCHD
Pulse oximetry doesn't detect every form of CCHD, nor is it 100-percent accurate. So it's possible for a baby to still have CCHD or another congenital heart defect even if he has had pulse oximetry and tests negative for the condition. That's why it's important to be aware of the signs and symptoms of heart defects. Red flags: Babies who fall asleep during feeding; sweat around the head, especially during feeding; breathe fast when resting or sleeping; appear pale or bluish; aren't gaining weight; sleep a lot and aren't playful or curious much at all; are difficult to console; and have a puffy face, hands, or feet. If your baby shows any of these signs or symptoms, she may have a congenital heart problem. If your baby has two or more of these symptoms, talk to your pediatrician about getting a referral to a pediatric cardiologist.
For a list of all the newborn conditions screened in New York (or to search any other state), visit babysfirsttest.org.
Sandra Gordon is an award-winning freelance writer who delivers expert advice and the latest developments in health, nutrition, parenting, and consumer issues. Her most recent book is Save a Bundle: 50+ Ways to Save Big on Baby Gear. Gordon lives in Fairfield County, CT with her husband and two daughters.
Also see:
Is It Safe for Pregnant Women to Get the Flu Shot?