Sanjiv Shah, M.D., chief medical officer of Fidelis Care, shares what families should look for when choosing a pediatrician, what questions to ask a pediatrician during an interview, the qualities to look for in a pediatric office, and how to switch pediatricians.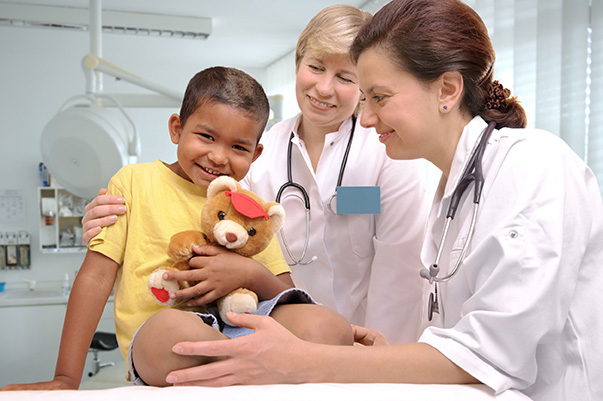 When should I start looking for a pediatrician for my child?
It's a good idea to start looking for a pediatrician before your child is even born. Many parents begin looking when they are in their second trimester of the pregnancy. In most cases, your pediatrician or another pediatrician in their practice will see your newborn while you are still in the hospital after delivery. Having chosen a pediatrician will be helpful because you, your baby, and your pediatrician will start to form a relationship that will hopefully last for years. Your pediatrician will also see your newborn just a few days after you return home. It's a very busy time, and you will be glad you made your decision in advance.


What should I look for when choosing a pediatrician for my family?
When choosing a pediatrician, look for someone who is board-eligible or, preferably, board-certified in pediatrics. It is always a good idea to ask family and friends which pediatrician they have chosen and why. You may want to know what hospital your pediatrician is affiliated with in case your child has a medical emergency and needs to be admitted.
After you've confirmed that the pediatrician or practice accepts your insurance, interview the pediatrician, either by phone or in person. That will give you a good sense of his or her bedside manner. Make sure you are comfortable. If you have strong feelings about certain health topics, such as immunizations, be up front with the pediatrician during the interview. If you don't share the same philosophy, it might not be a good fit.
Ask how emergencies are handled on the weekend or after hours, and how the pediatrician plans for coverage when he or she is on vacation. Also, find out what happens if you call the pediatrician with a medical question during the day. How quickly are calls returned? Would you be able to speak with a nurse if the pediatrician isn't available?
In the first 18 months of your child's life, you will make frequent visits to the pediatrician, so the office should be conveniently located. If it's out of the way, you risk skipping appointments. Also make sure the office hours fit with your schedule.
Visiting the office during its regular hours will give you a good sense of cleanliness as well as how courteous and personable the staff is. You may also be able to tell whether there are long wait times.
After visiting the office, it may be helpful to make a list of what you like or may not like about each pediatrician and practice. In a perfect world, the pediatrician will see your child for well-child visits and minor illnesses that happen along the way. Think about how easily and well cared for your child would be in either case.


The pediatrician I chose for my family seemed like a great fit, but now i am not sure i made the correct decision. What should I do?
Ask yourself whether the pediatrician isn't a good fit or whether it's the whole practice. If you are interested in working with another pediatrician in the practice, it shouldn't be a problem. You can ask for a different pediatrician when you make your child's next appointment.
If you wish to change to a different practice, don't feel guilty or worry that you will hurt anyone's feelings. Your child's care is the most important consideration. Again, ask family and friends for recommendations. Once you make the change, be sure to transfer your child's immunization records and the results of tests. That will give your new pediatrician a good sense of your child's health history.
Sanjiv Shah, M.D., is chief medical officer of Fidelis Care, the New York State Catholic Health Plan. He is responsible for medical policy and management, quality care, and the advancement of Fidelis Care's case management and disease management programs.
As the New York State Catholic Health Plan, Fidelis Care offers quality, affordable coverage for children and adults of all ages and at all stages of life, including products available through New York State of Health: The Official Health Plan Marketplace.