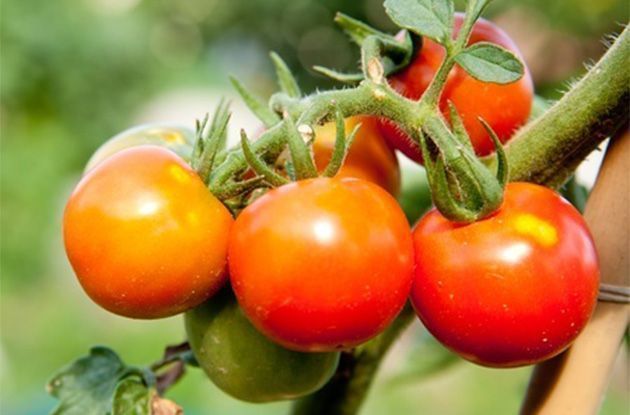 20 Plants to Grow in Your Kid's Garden
Get can't-miss family activities sent to you!
Get the Best Kid-Friendly Activities
Sent to You Weekly!

Trees are the spirits of a garden and the lungs of our earth.

Buy your child a "birthday tree" and plant it where it can be observed and enjoyed through every season. Take a yearly birthday photo to chart the growth of the child and the tree.

Plant hideout trees like weeping willows, Deodar cedar, black mulberry, and Camperdown elm. Kids will squeeze into the shady recesses and play happily for hours.

Harry Lauder's walking stick is a wildly twisted tree that is one of the most touched and loved things in a child's garden. This tree can be grown successfully in a container, and after a few years a child can cut walking sticks and crooked fishing poles.

Apple trees are laden with surprises. The delicate blooms are edible and make a great dessert topping on ice cream or pudding. Slice an apple horizontally and hold the slice up to a light. You'll discover the image of the blossoms you gathered in the spring.


Alliums are sometimes called "stinking lilies," because many members of this big family have a pungent aroma. These fail-proof plants will reward kids with a diversity of colorful, fascinating blooms that can be cut and added to bouquets or dried and used in craft projects.

Allium giganteum lives up to its name by standing 4 feet tall and boasting show-stopping, 6-inch violetblue flower heads. These starburst blossoms dry well on the stalk and make perfect scepters or wands. The dried hollow stems, pierced with holes, can be played like a flute or whistle.


Chives are some of the easiest plants for kids to divide and grow. Each tiny needle of green can be slipped into the soil. Chances are great that they'll root and multiply, and self-sow prolifically. Purpleflowered borders of chives are a magnet for butterflies, skippers, and bumblebees. The flowers are yummy fresh-picked and munched in the garden, or added to soups, salads, and sandwiches.

Potatoes are a vegetable most kids know and love. When hearing the word potato, most people think of the common brown spud found in every grocery store. But spuds come in a rainbow of colors—from gold to purple—and your own garden of potatoes can be an exciting, colorful, scene of endless hunts for tasty, buried treasures.

Potatoes stuck with twigs make dogs, horses, elephants (with carrot noses), and even people. They can be carved into stamps for printing, and a Mr. Potato-Head can be made by decorating a spud with fruits and vegetables for the face. For hair, hollow out the top of the head, drop in wheat seeds, and water.


Woolly Lamb's Ear is an herb kids can't resist stroking and picking. They use the soft leaves as pretend moustaches, as blankets for fairy-size doll beds, and as clothing for tomato and flower dolls. When the weather is freezing cold in Holland, people sometimes lay a soft, velvety lamb's ear across their noses and under the bridge of their glasses for warmth.


Four-O'Clocks are exuberant, multicolored flowers with an oldfashioned dependability and punctuality. Go outdoors with your child any afternoon at 4:00 (with adjustment for daylight saving time) and watch the grand opening of dozens of blooms. Linger a bit and hummingbirds and sphinx moths may stop for a sip of nectar. Kids like to pick these flowers and slip them inside each other to form colorful chains of jewelry.


Evening Primroses, especially the fast-action 'Tina James' Magic, will provide your summer evenings with a magical explosion of blooms.

Establish a tradition of watching the slow, golden twilight dance of this primrose with your child. Just as the sun sets, the mature, pink-tinged buds begin to swell. Then the blooms quiver slightly and the pleated petals bulge out through the green sepals like the fabric of a partially opened umbrella. Within a few seconds, the sepals open completely, the pistil protrudes, and the four petticoats of bloom unfurl.

To cheer a sick child confined indoors, cut a stalk of unopened buds and put them in a vase of water. At dusk turn out all lights in the vicinity of the plant and watch. The flowers will make a command performance—a special evening cotillion.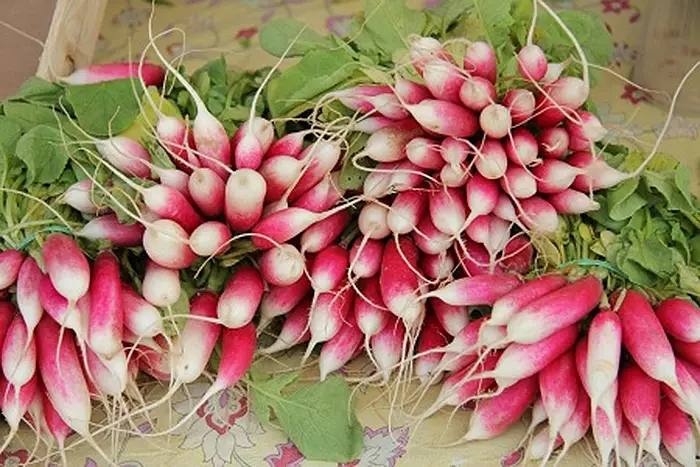 Radishes, from the Roman word radix, or root, are sometimes called "springers" because they sprout so quickly they seem to spring from the earth. Kids love the springers' prompt response to planting and can't wait to pull up the little roots and sample them.

Radishes come in a medley of colors and shapes. Easter egg varieties will give you a rainbow of red, white, lavender, and deep violet "eggs." Icicles surprise kids with their long, skinny white fingers. 'Saxa' can be harvested after only 18 days, and the German giant 'Parat' grows to the size of a baseball in less than a month. The giant of all radishes is the Daikon 'Moriguchi', which can reach a length of 5 feet—taller than many of the kids who can read this book.

Kids can slice daikon and use scissors or cookie cutters to make fanciful shapes for salad toppings. Radish animals are made with twigs or toothpicks—leave long hairy roots attached.

Nasturtium flowers are so vibrant, they shine like jewels. Bite into a leaf or flower and you'll see why the plant earned its Latin name of 'nose-twister.' Use the peppery flowers, medallion-shaped leaves, or plump green pods to create a rainbow salad. Nasturtiums produce large seeds—easy for even the youngest child to plant. The seeds are virtually foolproof, germinating and putting on lots of growth (in warm, sunny areas) within weeks.

These vigorous climbers are content to grow in hanging pots and containers—I've even grown them in old, worn-out work gloves nailed to a wall. The helmet-shaped blossoms make hats for flower dolls; or stuff them with cream cheese for a tart snack.

Moon Plant was what my grandmother called this old-fashioned biennial, but you may know it as silver dollars, fairy pennies, gypsy jewels, penny flower, lunaria, Cinderellas, or elf platters. Moon plant self-sows prolifically and will grow well in problem shady areas—it tolerates neglect and even seems to thrive on it.

After the small pink flowers bloom, a flat green seedpod forms. Wait for the pod to turn brown, then show your child how to gently slip off the plain paper covering to expose the beautiful, iridescent Cinderella hidden inside.

Children like to use the disks as play money, as hair and hat ornaments, or for fragile "porcelain" dishes. They can paint miniature scenes on the shiny rounds and hang them in fairy houses. Small clusters of the luminous pods, still on their branches, look beautiful tucked among the boughs of a Christmas tree.

Lemon Verbena, with its crinkly, lemon-tart leaves, is one of the most irresistible plants in any child's garden. Once you run your hands across the plant, you'll be hooked—lemon verbena lovers are for life.

Fresh new leaves make for great nibbling right in the garden. Gather the leaves and the tiny white flowers, shred them into small pieces, and use them as an ice-cream confetti. Put sprigs into pitchers of lemonade or iced tea to lend a sharp, zingy taste. Rub fresh leaves on your skin to discourage mosquitoes and other insects. Stuff a few handfuls of dried leaves into a pillowcase, and set it on a chair your child frequents—it will release a heavenly aroma.

Tie together two supple, young branches to make a perfect heart wreath, or fashion a crown for the kids with a circlet of branches.

Excerpted from Roots, Shoots, Buckets, & Boots Copyright 1999 by Sharon Lovejoy
Used by permission of Workman Publishing Co., Inc. New York. All Rights Reserved

Want to see some of these plants in action before starting your own garden? See our guide to zoos, nature centers, and botanical gardens in the New York area.
Garden anywhere! Get in on the fun and find out about making your own seed grenades!