From teeth whitening and fluoride recommendations to taming fear at the dentist and the Tooth Fairy's going rates, there's a lot to consider to ensure your family has good dental health. We spoke to area experts to find out what you need to know.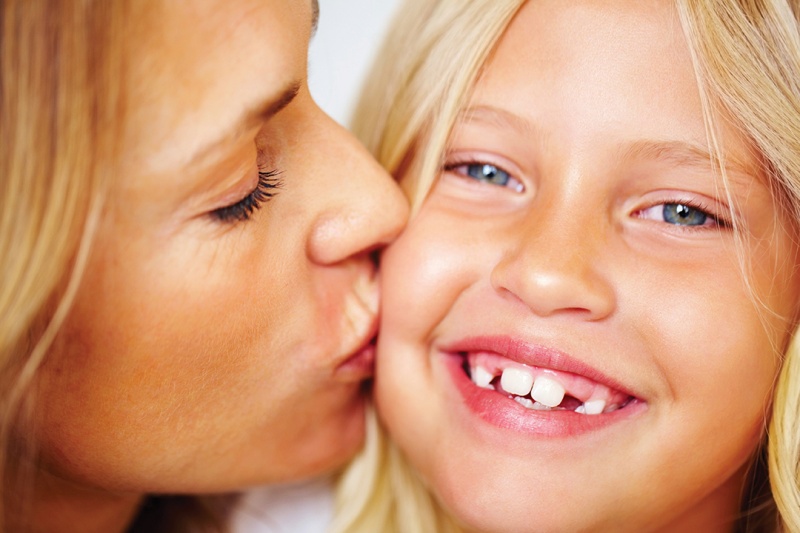 One of the most important things you can do for your littlest children is make sure they have good dental hygiene—even baby teeth, believe it or not, play an important role in your child's development. "[Baby teeth] promote nutrition by allowing your child to chew properly, they are involved in proper speech development, and they protect the space that will eventually be held by the permanent teeth," says Stephanie Strickland, D.M.D., clinical assistant professor of pediatric dentistry at New York University College of Dentistry.
Various local experts share what you need to know to ensure your child has a healthy smile for life, including saving teeth for stem cells, the Tooth Fairy's going rate, taming fear at the dentist, and braces and self-esteem.
Quiz: Test Your Tooth IQ
You should begin flossing for your child as soon as his teeth are touching.

The AAPD recommends a child should first visit the dentist by age 1 or when the first tooth appears.

You can let your child have unlimited sugary snacks and drinks with no dental health repercussions.

The recommended time for cleaning is 2 minutes of brushing and 1 minute of rinsing.

Once your teeth are straight from braces, you don't ever need to wear your retainer.

Kids miss more than 51 million hours of school due to dental pain or cavities.

Obtaining dental care within 30 minutes can be the difference between saving and losing a tooth.

Cooked starches such as breads, pasta, and potato chips can lead to cavities because they frequently take longer to clear the mouth than sugary foods.

There is no difference between the fluoride in toothpaste and water other than concentration.

Cheeses such as aged cheddar and mozzarella are not good to eat because they exacerbate the acids that attack teeth.
Answers: 1. T; 2. T; 3. F; 4. T; 5. F; 6. T; 7. T; 8. T; 9. T; 10. F


Ask the Experts
When should my child start using fluoride toothpaste, and what are the effects if she swallows too much fluoride?
The literature just changed. The ADA now recommends that children should use fluoride toothpaste—no more than the size of a grain of rice—as soon as teeth start to come in. You definitely want to monitor children using fluoride toothpaste because swallowing too much toothpaste (the whole tube) can be toxic. A milder effect of swallowing too much fluoride is brown or white spots on teeth, called fluorosis.
—Erica Fish, D.D.S., of M.E. Smiles Dental PC, which has locations in Hartsdale and White Plains
Did You Know?
Fluoride varnish is a topical treatment for children that are at high risk for cavities, meaning they've had cavities in the past or they have a genetic disposition for getting cavities. It's recommended every six months—when your child goes in for a checkup.

I've heard that stem cells can be collected from teeth. How are those stem cells different from cord blood stem cells, and how do I save my child's teeth in case of future need?

My 4-year-old throws a tantrum every night when he's told to brush his teeth. How do we skirt the protests?
Try to make it a fun event for the child instead of forcing him to brush. First, let the child brush on his own while listening to a song he likes. You can sing along and encourage brushing until the song ends. Then compliment how well the child did and ask if you can take a look to see if he "missed a spot." Then try to brush as best as you can. The key is to motivate the child and repeat the event every day so he gets into the routine of brushing without much resistance.
—Suho Lee, D.D.S., of Tooth Fairy Pediatric Dental in Ridgefield, CT

My tween is embarrassed because his teeth are slightly discolored. At what age is it okay to let him whiten his teeth?
Warning: Amalgam Fillings and Teeth Whitening
"A study came out about a year and a half ago in the Journal of the Academy of General Dentistry that showed when you have mercury fillings in your mouth and you whiten your teeth with a peroxide gel, the fillings release mercury. So if you whiten your teeth professionally and you have amalgam fillings, you are exposing yourself to mercury toxicity. Now obviously there is a difference in exposure between someone who has a mouth full of fillings versus someone who has one or two."
—Alex Shvartsman, D.D.S., of Long Island Center for Healthier Dentistry in Smithtown, has nearly 20 years of experience in whitening teeth.


Can I really impact my baby's dental health by passing him germs from my mouth?
With braces being a fairly common need in teens and tweens, why do some kids still feel self-conscious or get bullied for having them?

At what age should I be concerned with my child sucking her thumb or grinding her teeth?

How Can I Help My Child with Special Needs Tame His Anxiety About Going to the Dentist?

Three Toothy Picks
Just Like Mom and Dad:

Philips Sonicare for Kids toothbrush makes the twice-a-day routine a lot more foolproof and a bit more fun. Using Sonicare's patented sonic technology, the toothbrush removes up to 75 percent more plaque than a manual toothbrush. It features a timer that gradually increases to 2 minutes (the dentist recommended time) with subsequent uses; two power modes for gentle and effective cleaning; a pacer beep that encourages kids to clean all sides of their teeth; and graphic stickers so kids can customize their toothbrush—just like Daddy's, but way cooler. (Ages 4 and older; $49.99 )

Protect Your Brush: A 2005 study on the National Institutes of Health's PubMed.gov shows that when toilets are flushed, bacteria can contaminate surfaces in the bathroom—including your toothbrush if you leave it on the counter! If you don't have a place to store your toothbrush where it won't be exposed, the IntelliDent Toothbrush Shield is a good solution. Made of non-woven material, it acts like a surgical mask for your toothbrush. Each breathable, quick-drying shield is individually sealed and protects against 99 percent of airborne and surface bacteria for up to seven days. Now that's a clean mouth! ($5.99)

Ivory Inflation: The price of a tooth went up 23 percent, according to a 2013 survey by Visa. That means children are receiving an average of $3.70 per tooth! Not sure how much you—um, we mean the Tooth Fairy—should leave your child when he loses a tooth? Visa's Tooth Fairy Calculator (a free app in the iTunes app store) will tell you what other children in similar family situations are getting under their pillows. Just enter your gender, age, education, state, marital status, family size, and household income to find out how much your child should get.