The 2014 Winter Olympics in Sochi, Russia begin this month—catch the games on NBC! We've got the scoop on ways your family can catch the Olympic spirit without traveling across the globe, Olympic fun with Elmo and Sesame Street, an interview with Fairfield, CT, resident Julie Chu who is competing on the U.S. Women's Ice Hockey team, and eight other local athletes competing in the 2014 winter games. Plus, a pork rib recipe from Chu's mom.


2014 SOCHI WINTER OLYMPICS

All eyes will be on Sochi, Russia this February for the 22nd Winter Olympics. Over the course of the games, an estimated 2,500-plus athletes will participate in 98 events across 15 winter sports, all contending for coveted gold, silver, and bronze Olympic medals to bring home to the almost 90 qualified countries sending athletes to Sochi.
Planning for such a massive event is no easy task, and the Olympic committee behind the Sochi games has been working to make their city a winter sports wonderland since winning the bid against short-listed Salzburg, Austria and Pyeongchang, South Korea (prospective host of the 2018 games). In order to transform Sochi into an Olympic-ready world stage, 11 athletic venues were built in two clusters, mountain and coastal, to accommodate the athletes and events. The two areas are located approximately 30 minutes apart by rail, and Sochi is providing a new cluster-connecting rail service to streamline Olympic transportation.
So, which sports can you catch on the tube this February?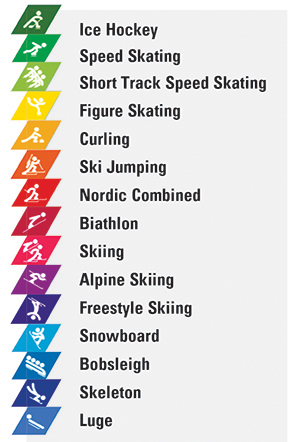 | | |
| --- | --- |
| | Elmo and his friends on Sesame Street are gearing up for the Sochi Olympics, too, providing free digital content during the games at sesamestreet.org. Watch out for a February episode of the PBS fave featuring Olympic figure skater Evan Lysacek, and watch the video below to learn a fun Team USA cheer. |
Web Activities for Kids
In 2001, two Westchester fourth-graders at Pocantico Hills School put together a website based on their knowledge about the Winter Olympics, including drawings of their favorite sports and some history of the ancient games. Old news, right? Well, the site—which has since garnered more than 2 million hits—still has a great selection of links for families. We especially recommend the two "cyberhunts" that send your kids in search of facts about the origins of the Olympic games.
Follow the Gold!